About Kristy's Pampered Paws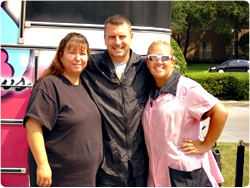 Kristy's Pampered Paws is a family owned and operated mobile pet grooming business with a husband and wife grooming team. Kristy is a well known and established mobile pet groomer that started grooming at a very young age. Although she was formally trained in California, she first began grooming at age 12 on her family dog, a Pekingnese named Cha-Cha, using techniques she'd learned while watching her favorite Animal Planet shows. Kristy has always loved animals and has been referred to as "The Ellie May" of Fort Worth. She has rescued many critters, including dogs, cats, rabbits, raccoons, possums, birds and even a monkey. Her love of animals and unique way with pets is what makes her so special and successful as a mobile pet groomer. She has worked at local veterinary offices and gained valuable knowledge and insight in both grooming and veterinary technician skills. She has patience and tenderness with special needs pets, such as those with medical problems or aging pets. Kristy's passion for mobile pet grooming compels her to continue to grow and learn new grooming techniques daily.
Kristy's best friend and husband, Shane, has been grooming since 2005. His love for dogs and cats makes him a valuable asset to Kristy's Pampered Paws Mobile Pet Grooming. Kristy and Shane have been married since 2000, although they have dated since they were in 5th grade! They love working together making dogs and cats clean and looking great. Shane is able to easily lift a 200 pound dog and makes grooming larger breeds that may be difficult for other mobile pet groomers a breeze for Kristy's Pampered Paws to handle. His favorite part of grooming is giving them treats!
Kristy's Pampered Paws Mobile Pet Grooming is managed by Kristy's sister Chanel. (pronounced like the perfume) She handles all customer service, appointments and questions. She has 3 daughters, 1 cat and 1 dog. Her favorite part of working for Kristy's Pampered Paws is getting to talk to different people every day.