Furminator De-Shedding Treatment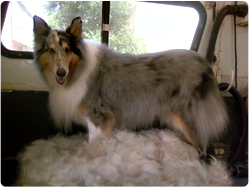 Sick of fur all over your couches, beds, clothes and furniture? The embarrassment of fur all over your home when guests come to visit? The endless cleaning and vacuuming? The constant checking and wiping fur off our clothes? Try the furminator de-shedding treatment! Our special de-shedding treatment removes the undercoat and reduces shedding by up to 90%!! Removes dead undercoat and loose hair without sacrificing healthy top coat.
We use a combination of tools in our de-shedding treatment. Many other groomers only use one or two tools. The length of time it takes for each de-shedding treatment will vary with your pet's size and the severity of the shedding. Our de-shedding treatment begins as soon as your furbaby enters the spa with a relaxing furminating brushout. After 10 to 30 minutes of furminating, they will also receive a massage in the bath which further loosens and eliminates even more of the dead fur. Once they are scrubbed and squeaky clean from nose to toes, they get a complete rinse and another massage using yet another de-shedding tool. During the drying process, we are constantly brushing to ensure the maximum amount of fur was removed and your baby has minimal, if any shedding.
Since each pet's coat and rate of hair growth varies, the frequency of de-shedding treatments will also vary. We typically recommend a treatment every 6-8 weeks to maintain the reduced shedding. Some clients like to have their furbabies treated every 4 weeks to prevent the buildup of undercoat and therefore stopping up to 90% of their shedding problems!
The furminator works wonders for most dogs and cats to help eliminate the fur "tumbleweeds" in homes with hardwood, tile or similar flooring. It also benefits many cats as a treatment to reduce hairballs. Having your cat furminated on a regular basis will help reduce shedding, thus reducing the amount of hair your cat ingests. Our de-shedding treatment helps stop shedding where it begins in the undercoat to dramatically reduce the mess and clean up of unwanted pet hair. A few breeds that are typically not good candidates for the De-Shedding Treatment are Poodles, Shih Tzus, Maltese, Bichons, Portuguese Water Dogs, and Irish Water Spaniels.