SKIN AND COAT CONDITIONING/ALOE REMOISTURIZING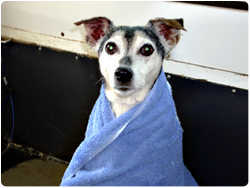 Is your pet constantly scratching, biting or licking their fur? Does your pet have dry flaky skin or excessive dandruff? Is your pet's coat dull and brittle? Any number of factors can contribute to these problems. Allergens in the air, grass or carpet can cause itchy skin. Poor diet can cause dull coats. Just like us, dogs need good skin care to prevent itching and flaking. Pets with dry skin are fairly common, and can occur during colder months due to exposure to heat indoors. Winter is also a time when we experience dry hands and feet, and as such we require extra treatment during this time to keep our skin moist and healthy. In the summer, many pets enjoy a dip in the swimming pool. Chemicals in swimming pools – both saltwater and chlorine – can really dry out your pet's coat and make it brittle and dull. Constant scratching, biting and licking can lead to hotspots and other health issues that can cause problems for both you and your pet.
We offer a wonderful skin and coat conditioning treatment that is good for both dry flaky skin and also pets who just want to be pampered. Our conditioning treatment can help with:
Adding Moisture to pet's skin and coat
Be used as a hot oil treatment
Help Relieve Itching and Irritated Skin
Get your pet pampered with a soothing Aloe Hot Towel Treatment today!